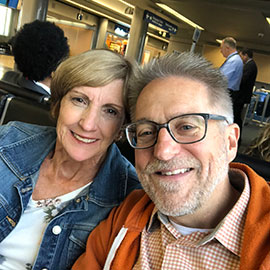 Ben and Tina Hoerr
Lead Pastors
Ben serves as our lead pastor which simply means he is generally responsible for the health and well-being of the church family. He loves to tell stories, encourage people, and help them discover and fulfill their place in God's sweeping story. In his spare time, you'll find him working in the yard, writing, or creating something. Tina loves her day-job as an Administrative Assistant at Caterpillar and her night-job as the financial controller for the church. She loves to sew, garden, and play the piano. Ben and Tina have 4 grown children and 4 grandchildren.
---
Kyle and Ellen Benefield
Community Life Pastors
Kyle is the most unlikely of pastors. He never wanted to be one. For as long as he can remember as a child, he aspired to be a doctor. God had different plans for him. Kyle graduated from the University of Illinois in 2006 with a degree in Medieval Spanish Literature. He and his wife Ellen Benefield, along with their 3 sons, Ethan, August, and Liam, planted a Vineyard church in Mazatlán, Mexico for the better part of a decade before moving back to the Midwest and replanting their lives in Peoria. Kyle is passionate about his family, friendships, and red wine. He is an avid bow tie wearer, an Enneagram #2, and a Hufflepuff. Kyle loves the local church and wants to help people find real and meaningful life both inside and outside the church.
---
Geoff Mills
Worship Team Director
Geoff serves as the worship director for the church. He and his wife, Amy, coordinate the music and technical teams that facilitate connecting to God through song during services. They have three boys, the oldest of which serves on the sound crew. During the week, Geoff works as an engineering leader in a Caterpillar joint venture and Amy co-directs the senior class of a homeschooling coop while educating their boys at home. In addition to their passion for music, they enjoy reading, traveling, and running a side business that helps people achieve their personal and professional goals.
---
Lori Hensold
VineyardKids Director
Lori leads our children's ministry. She loves listening to kids and helping them learn to love Jesus. In her 'real job' as a Professional Learning Coordinator, she helps educators create the best possible learning conditions for ALL kids. For fun, she likes to read, connect with friends, and create fun family memories. Jim spends much of his time providing compassionate care as a Family Practice physician. He likes to think of supporting Lori and their family as his 'real job'. Jim likes being outdoors, listening to music, and hiking. Lori and Jim have 6 grown children and 5 grands (so far.)
---
Ellen Benefield
VineyardYouth Leader
Ellen Benefield prefers to be somewhere high overlooking a beautiful vista whenever possible. She enjoys deep conversations and Spanish poetry. Mentoring and encouraging teenagers in some fashion has been a part of her life as long as she can remember.
---
STEVE SLADEK
VineyardYouth Leader
Steve grew up in a suburb of Chicago, asked Jesus into his life at a young age, and was baptized at 12-years old. He has always been involved in helping with church from nursery, children's church, youth and college ministry, and missions. Steve has been married to his childhood sweetheart, Alisa, for over 17 years, and they have four boys. He works full-time at a local cabinet shop, owns his own seasonal business, and loves carpentry, travel, and his wife's crazy cooking.