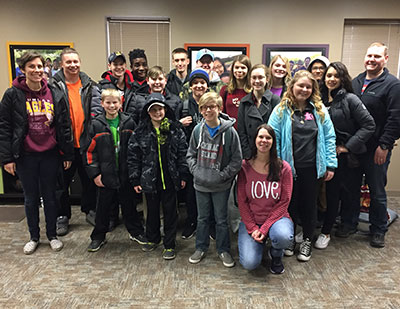 There is perhaps no more formative time in the life of a child than the pre-teen and teenage years. Forming values, choosing friends, making decisions, deciding what career path to take in life.
We want to partner with parents of Middle School and High School students in this exciting and challenging time through our student ministry. Led by a great team of passionate young adults, students experience a variety of personal and spiritual growth environments.
Every Sunday morning during the 10am service, our youth meet together in the Commons to connect through crazy mixers, learn through teaching (based on the XP3 curriculum produced by Orange), engage in discussion, and meet in small groups for more personal sharing and ministry prayer. The teens join the adults for worship in the main auditorium.
Our youth also participate in the high-octane Winter Retreat where they join hundreds of other Vineyard students from across the Midwest to worship, grow, and share. Then liberally sprinkled through the year, they also meet for fun events like riding go-karts, visiting a water park, or going to a baseball game.
For additional information, contact Ellen Benefield at ebenefield@gmail.com or Steve Sladek at ssladek@redbudridge.com.